Slotland's Striking 7s Video Poker Machine
Striking Sevens is a unique and exciting video poker machine found exclusively at Slotland, the most trusted online slots casino. This is a variation of the popular Deuces Wild video poker game, except here the 7s are wild cards, not the deuces.
Each seven can substitute for any card you need and the Doubling Feature even allows you to multiply your wins. Minimum bet is $0.50; maximum bet is $10.00. The best hand, a Natural Royal Flush, wins the progressive jackpot, which frequently grows to well over $100,000!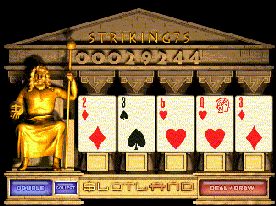 Current Progressive Jackpot on Striking 7s
No download needed, just open an account and start to play the Striking 7s video poker machine immediately!
The object of the Striking Sevens game is to obtain the best possible poker hand. Sevens are wild and can be used as any card, for example as the missing card to complete a straight or as the fifth heart in a hearts flush. On the initial deal, you will be dealt five cards face up. Then you may hold all cards dealt or, if desired, can receive up to five new cards.
If you win, you can opt to collect the money immediately or try to double the amount. The objective of the Doubling Feature is to draw a card of higher value than the first card drawn by the computer. If you draw a higher valued card, your win is doubled; if not, you lose the hand.
The playing strategies for this video poker machine are the same as for Deuces Wild; the only difference is that in this game the sevens are wild instead of the deuces. Click here for detailed instructions and optimal playing rules.
You can play at Slotland with confidence. Slotland's payouts and odds are comparable to those found in top Las Vegas casinos and their rules conform to those of the Nevada Gaming Commission. Withdrawals are paid promptly and your privacy is assured. Slotland does not require tax or federal ID numbers. Slotland welcomes new players with a 100% match bonus on credit card deposits from $10 up to $100 and up to $200 match bonus on deposits made by Neteller. Both new and long-term players enjoy very generous bonus programs all the time. For details just click on bonuses when you're at the site. (No, you don't have to sign up or spend money first.) Above all, Slotland is probably one of the most honest online casinos in existence. Play Slotland's Striking 7s video poker machine now, Click here.